Choice Properties is proposing to transform the 10+ acre transit significant site and integrate it into the community with a centralized park, a diversity of housing units and thriving commercial spaces.
Following an OPA application, a Rezoning application was submitted in July 2022.
On July 14 2022, the Bloor & Dundas project team hosted a Virtual Update Meeting to share information on the next stage of development and the Rezoning application. Presentation slides and a summary report of key topics and questions are available for viewing here.
Guiding Principles
Public Green and Open Spaces
A significant portion of the site is planned for new public spaces. A centralized public park will offer important green and recreation additions to the area, providing a new reinforced focal point for both existing and new residents.
Public Realm and Connectivity
Proposed are a variety of multi-modal connections such as new green streets and a north-south connector on the Railway embankment and Ritchie Avenue. Pedestrian pathways on both sides of the streetscape will help invigorate and significantly improve the pedestrian environment for the neighbourhood.
Retail Vibrancy
Animated retail uses along Dundas will integrate with existing retail and extend the experience and offering for both new and existing businesses.
Housing Diversity and Options Near Transit
Introducing new homes with a diverse unit mix to accommodate a variety of household sizes around an existing transit-rich neighbourhood provides for greater access to existing important services and transit infrastructure.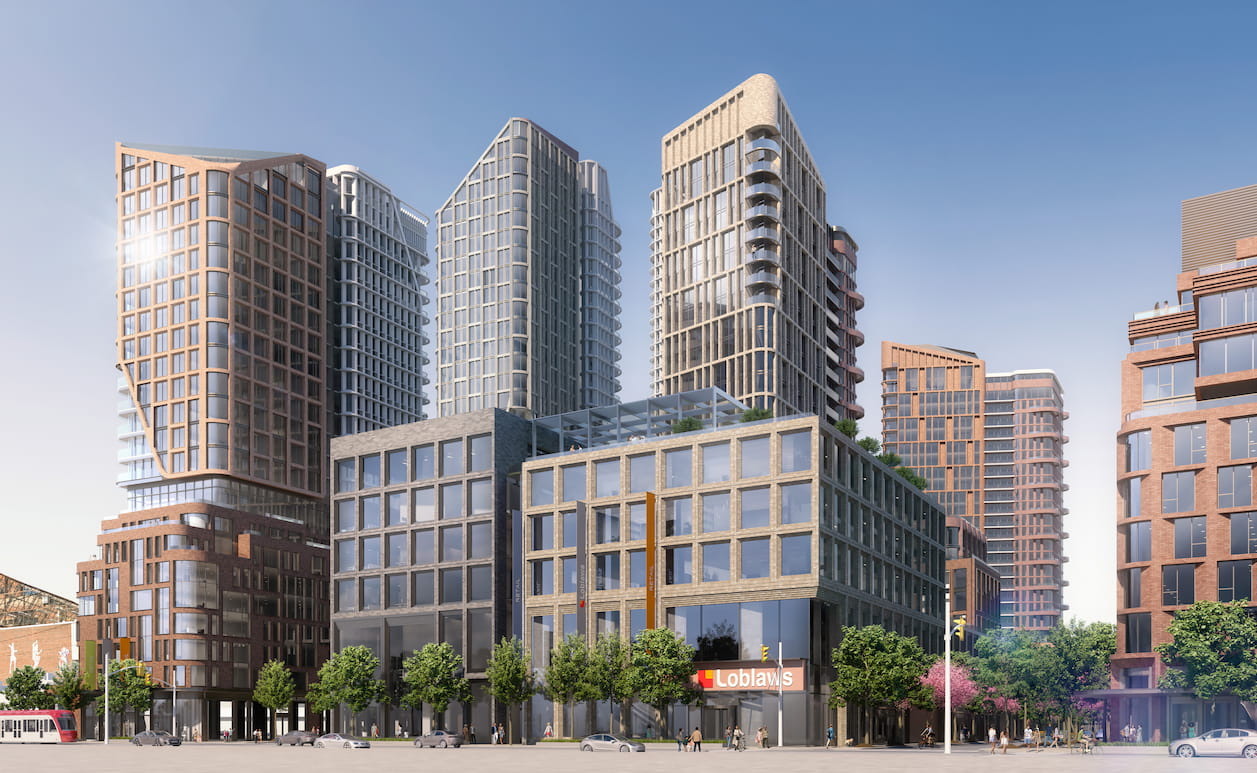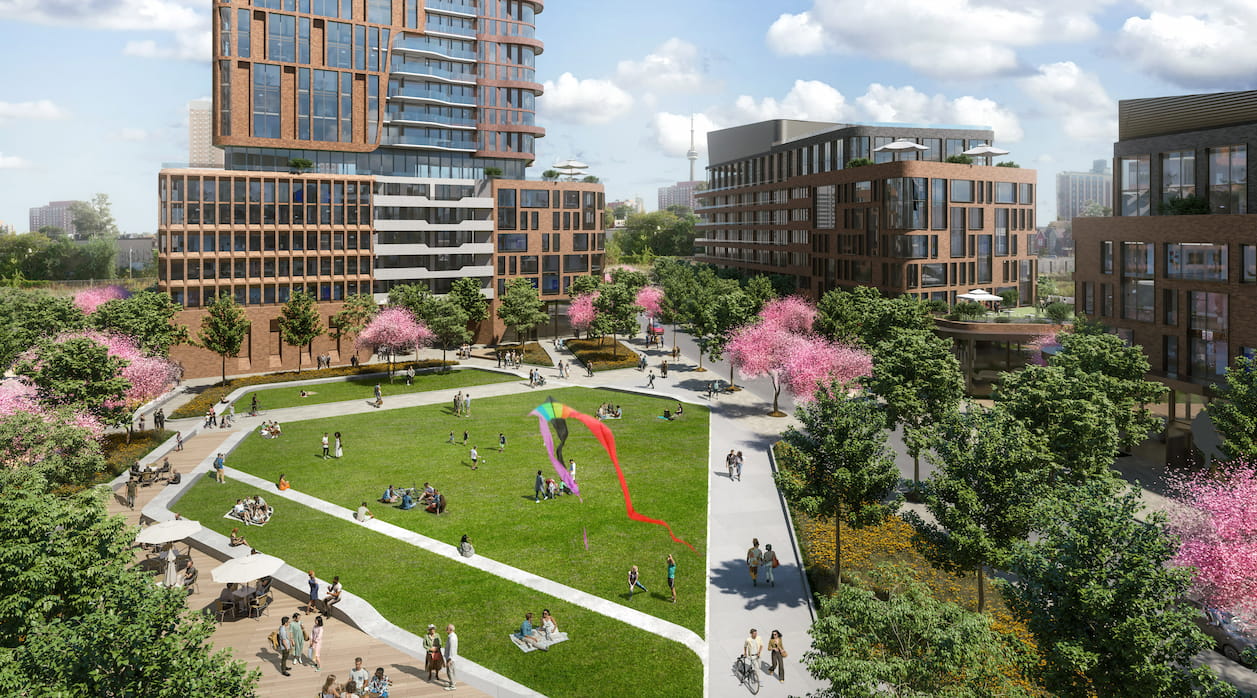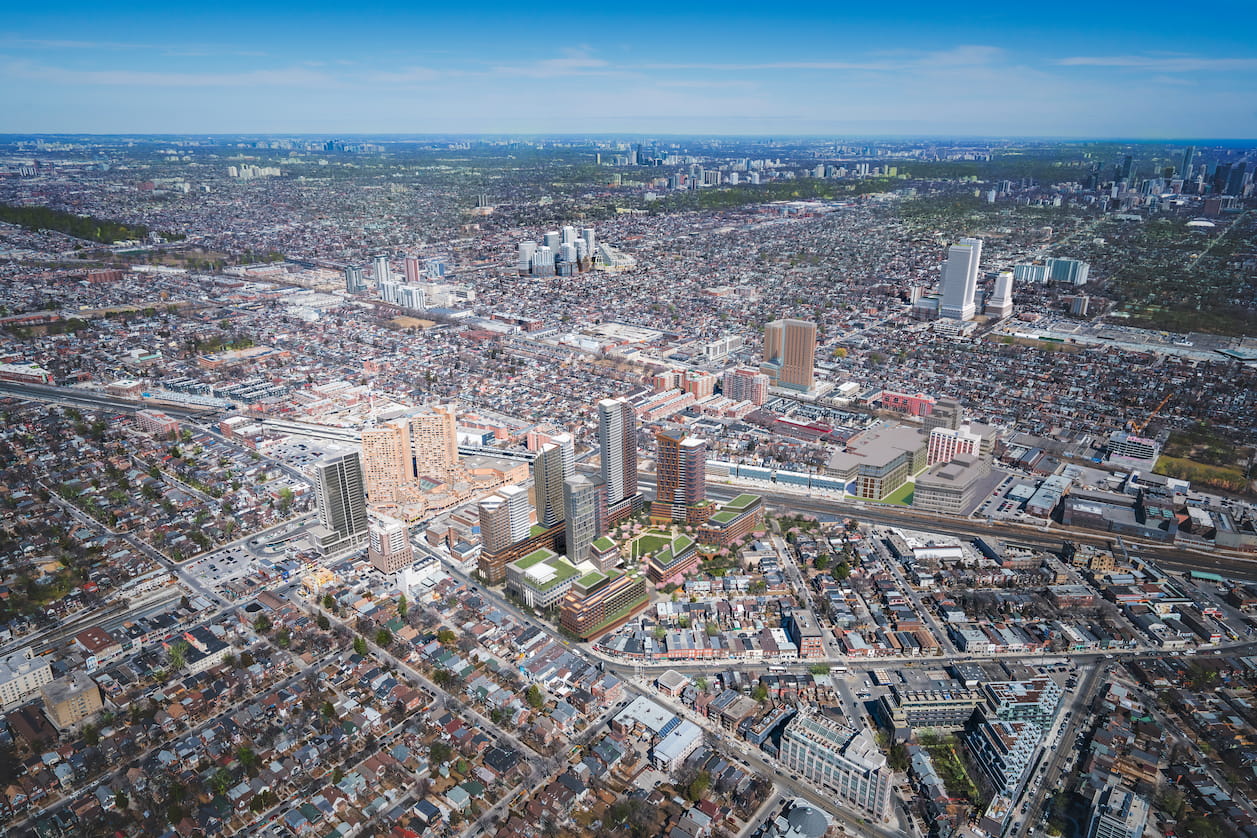 Where We Are
in The Process
The master planning process for Bloor & Dundas is a multiple-year process that will continue to evolve. Check back often to learn about where we are and how to get involved.
June 2017 - April 2018
Open Houses
#1, #2 & #3
April 2018
Application submission (OPA)
Summer 2022
Application submission (Rezoning & Plan of Subdivisions)
Fall 2022
Statutory Community Meeting
Frequently Asked Questions
What is the future vision for this site?
Our vision is to transform a transit-rich, but currently underutilized, site to introduce new housing options, retail vibrancy and new public green and open spaces for existing and future residents. Our vision will evolve as our master planning process continues.
What is the difference between this proposal vs. 2018 OPA?
The proposed plan now includes a new centralized park, mid-rise character design, updated urban landscaping including open spaces and public realm and new integrated connections for better porosity. While still in discussions with the school board, we are advancing this significant project through the portion of the site we own, which does not include the school at this time. We will continue to discuss future opportunities as part of our evolving vision for the Site.
How are you considering the potential impact to nearby neighbours?
The proposed buildings have been designed to respect the existing neighbourhood in line with shadow and wind study recommendations. The construction will be completed in phases and we will incorporate dust and noise mitigation measures. The proposed development also increases opportunities for pedestrian and cycling connections throughout, encouraging mobility to and through the Site.
Will the Grocer and LCBO remain?
Choice Properties is committed to incorporating an urban format grocer at this location, as well as continued grocer operations maintaining community access during construction. We will provide a further update once tenants are confirmed.
Will there be parking for the retail?
Retail and public parking will be incorporated on the site, while promoting pedestrian linkages for the community and local transit usage.
How will the proposal address parking and traffic concerns?
Planning for integrated pick-up and drop-off areas, dedicated interior loading bays, designing for "back-of-house" activities away from public realm and designing below grade parking are some of the ways we plan to manage vehicular movement, in line with completed traffic studies. The proposed development also includes improvements to Dundas Street W between Roncesvalles Avenue and Bloor Street W to improve operations in this portion of the neighbourhood and reduce activity that typically causes delays for motorists and streetcars.
What is the timing for this project?
We are in the midst of a master planning process, which takes multiple years to complete. We anticipate submitting further and revised applications in 2023. No construction will begin until all approvals are in place.
How can I get involved?
Please leave us a comment or question through the Contact Us form. You can also stay up to date through the City's Development Application process and learn about upcoming City of Toronto Statutory Community Meetings.
See full FAQ Public Report Summary
Our team
Project Materials
See below for a full list of project and application materials.
Contact Us
Share your Thoughts
Do you have any questions or comments? Please fill out the form to get in touch with our project team.

Head Office
The Weston Centre
700-22 St Clair Avenue East
Toronto, Ontario Canada
M4T 2S5
Tel: 416-628-7771
Fax: 416-628-7777
Choice Properties is a leading Toronto-based Real Estate Investment Trust that creates enduring value through the ownership, operation and development of high-quality commercial and residential properties.